Sirens of TI at Treasure Island Hotel & Casino
Watch a pirate battle scene play out right before your eyes.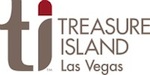 Where:
Treasure Island Hotel and Casino (outside along the Strip)
3300 South Las Vegas Blvd.
Las Vegas, NV 89109
When:
Daily: 5:30 pm (Fall/Winter only), 7 pm, 8:30 pm, 10 p.m. and 11:30 pm (Spring/Summer only)
Shows may be cancelled due to poor weather conditions.
Cost: FREE!
Socialize and Share:
Page updated: November 27, 2012
Once known as the kid-friendly, Battle of Buccaneer Bay, this show has transformed into the more adult-friendly Sirens of TI. Located directly in front of Treasure Island Hotel, the watery cove becomes an action-filled battle scene every night. Best described at a modern musical-meets-action-movie spectacular, audiences are taken back in time to a 17th century story.
Aboard The Song, the mischievous Sirens, a group of scantily clad women, are looking for some fun. They find just what they desire by luring a pirate ship, The Bull, into Sirens' Cove. However, the pirates prove to be more than they bargained for and a fierce battle ensues. This impressive full-on production includes upbeat music and dancing as well as technically dangerous swordplay, acrobatics, diving, pyrotechnics and even the sinking of a full-size ship (which ship we will shall not divulge). As for the ending of this pirate story, our lips are sealed. You will have to see it for yourself.
Expect the show to last about 18 minutes. Spectators should expect plenty of loud booms, fire, explosions and fireworks. As this is a popular production, you may want to arrive early to get a good spot close to the action and have no problems seeing over heads. Although there is no age requirement, due to the provocative nature and mildly-violent elements of this show, parental discretion is advised. Please note that strollers are not permitted in viewing areas.