David Copperfield at MGM Grand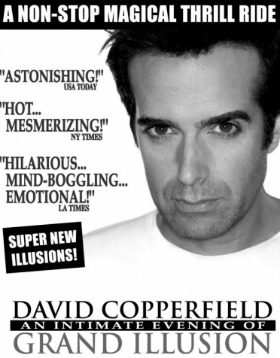 Socialize and Share
Starring: David Copperfield
For decades, David Copperfield has been appearing on network television and embarking on tours to share his gift of magic with audiences around the world. Just a few of his astounding feats include walking through The Great Wall of China, making the Statue of Liberty disappear before a television audience of 50 million and making audience members vanish and reappear in completely different places. Copperfield has won Emmy awards and two "Entertainer of the Year" awards as well as selling out box offices all over the world. His show at the Hollywood Theater in the MGM Grand includes simulations of his larger illusions in addition to others specific to his stage show such as sleight-of-hand tricks and levitating items with the touch of a finger.
Ages: 5+
Length of Show: 90 minutes
Additional Details: Performance Dates: Nov. (2013): 1-13 & 21-30 Dec. 2013): 1-4 & 15-31 Jan. (2014): 1-27 Feb. (2014): 4-28 Mar. (2014): 1-3 & 11-31 Apr. (2014): 1-23 & 30 May (2014): 1-2 & 4-26 Jun. (2014): 3-19 & 25-30 *Shows are subject to change. Please check with hotel to confirm performance dates.
You May Also Like: