Absinthe at Caesars Palace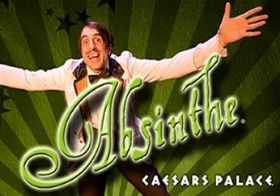 Show Times
| | |
| --- | --- |
| Monday | DARK |
| Tuesday | 8:00pm, 10:00pm |
| Wednesday | 8:00pm, 10:00pm |
| Thursday | 8:00pm, 10:00pm |
| Friday | 8:00pm, 10:00pm |
| Saturday | 8:00pm, 10:00pm |
| Sunday | 8:00pm, 10:00pm |
Socialize and Share
Discount Tickets for Absinthe
Absinthe is a wild and sensory intense delight which is probably why they named this show after the extremely potent, vibrant green liqueur that is banned in most Western countries. This production is reminiscent to the days of the traveling circus, minus the animals. Located on Caesars Palace property just outside of the hotel, the theater is inside a tent. Once you step inside, you are instantly transported into intimate and warm space filled with knickknacks, oddly matched sofas, chairs, a bar and two stages. The audience encircles a small, round stage so tiny in size it is impossible to imagine a show performed on it. Off to the side sits the second stage which is only a fraction larger. By creating a small and intimate circular theatre, there is no bad seat in the house.
Once the show begins the audience meets the foul-mouthed Gazillionaire and his deceptively sweet-sounding assistant Penny Pibbets. However, do not let the innocent-seeming Penny fool you. Her penchant for discussing sexual relations in such rip roaring graphic detail could make a sailor blush several shades of red.
The Gazzillionaire and Penny have great pleasure introducing the many wild, crazy and amazing acts. With such a petite theatre, audiences are up close and personal with the daring and talented gymnasts, acrobats, tight-rope walkers, roller skaters, ladies of burlesque and musical talents from all over the world. By sitting so close to the action it is impossible to ignore the the reality of the danger in each act. Respect and amazement is rightfully earned with every seemingly ludicrous and impossible performance. No one performer stands out more than another because of the wealth of talent. To ease the tension of danger, they introduce plenty of humor and x-rated material.
Absinthe is not for the faint of heart. As an audience member you must be prepared for language and naughty discussions you would never hear in your grandmothers house, heart-stopping feats of craziness and personal participation that you hope won't end up on YouTube.
Ages: 18+
Additional Details: The show will be dark on the following dates: February 5 & 28, 2012
You May Also Like: