Elton John at Caesars Palace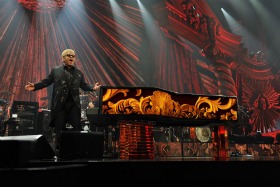 Socialize and Share
Starring: Elton John
Sir Elton John along with his musical partner, his piano, play the concert of a lifetime at Caesars Palace Las Vegas. Accompanied with his band, he performs his best known hits that has audiences jumping to their feet singing and dancing.
This iconic musician regales audiences with classics like "Bennie and the Jets", "Goodbye Yellow Brick Road", "Philadelphia Freedom" and "Rocket Man", just to name a few. Along with his greatest hits, Sir John also dives deeper into his portfolio which his devoted fans will appreciate.
Elton is known to personally name each of his pianos. His Million Dollar Piano is no different. Meet Blossom. Her namesake, Blossom Dearie, was an American jazz singer and pianist who passed away in 2009. As it turns out, Million Dollar Piano is not just the name of the show, but an appropriate description of the piano. Blossom, a Yamaha grand, was specifically enhanced with bling - 68 LED video screens that run the length of her body. The screens entertain audiences with graphics, patterns and images to the beat of the music.
This sentimental concert perfectly depicts the long and successful journey Sir Elton John's career has taken him. This is a must see for fans and newbies alike.
Ages: All ages welcome
Length of Show: 90 minutes
You May Also Like: