The Australian Bee Gees Show at Excalibur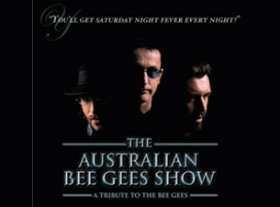 Show Times
| | |
| --- | --- |
| Monday | 7:00pm |
| Tuesday | 7:00pm |
| Wednesday | 7:00pm |
| Thursday | 7:00pm |
| Friday | DARK |
| Saturday | 7:00pm |
| Sunday | 7:00pm |
Socialize and Share
As soon as the first note is heard, prepare to be transported back to the sights and sounds of the fabulous Bee Gees. Performing in the Thunder Showroom at Excalibur Hotel & Casino, The Australian Bee Gees Show, a tribute band, have been cultivating their Bee Gees-like talent for over 10 years. With their spot-on sound and visual resemblance to the Gibb brothers, Barry Gibb, Maurice Gibb and Robin Gibb, this tribute band have reached Bee Gees perfection.
This multi-media concert provides audiences with a state-of-the-art sound system, fantastic lighting and giant screens that feature live stage shots, video clips and beautiful graphics. Performing hit songs like "You Should Be Dancin'", "Stain' Alive", and "Night Fever", The Australian Bee Gees Show takes audiences through the incredible Gibb Brothers musical journey throughout the decades.
Dark on Fridays, The Australian Bee Gees Show can been nightly at 7:00pm. This is a show that all Disco-era and Bee Gee fans shouldn't miss.
Ages: Ages 5+
Length of Show: 75 minutes
You May Also Like: