Evil Dead - The Musical at Planet Hollywood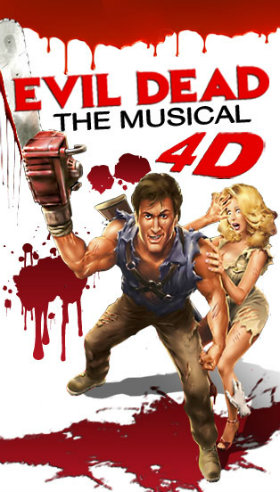 Show Times
| | |
| --- | --- |
| Monday | DARK |
| Tuesday | DARK |
| Wednesday | DARK |
| Thursday | DARK |
| Friday | 10:00pm |
| Saturday | 11:30pm |
| Sunday | DARK |
Socialize and Share
Discount Tickets for Evil Dead - The Musical
Evil Dead: The Musical. Yes, you read correctly, The Musical. This production is a perfect mix of rock, singing, dancing, humor, gore and blood. Lots of blood. What began as a limited run in Toronto, Canada, Evil Dead: The Musical became an instant success. Eventually moving to Off-Broadway in New York City, then popping up world-wide. Opening June 2012, now a resident show at the V Theater in Miracle Mile Shops at Planet Hollywood Resort & Casino.
Based on the popular Evil Dead film series, this musical combines all the movies and characters to produce a comedic rendition of this cult classic. To all Evil Dead fans, don't panic, writer/director Sam Rami and actor/producer Bruce Campbell have given the nod to all the musical shenanigans.
The story follows five college students that enter an abandoned cabin in the woods. They accidentally release an evil that threatens to turn them into demons. Thankfully, hero Ash (the main character from the films, is also in the stage version) is there to save the day with his witty one-liners and his chainsaw. There is blood. There is gore. There is dismemberment. This is all told through song.
The New York Times predicts that Evil Dead: The Musical will be the next Rocky Horror Picture Show. This rip-roaring gore-fest will have you rolling with laughter in your seats. Have I mention the blood? This is the only show that has a designated "Splatter Zone". Each show is expected to use 15 gallons of blood. Now that sounds like a bloody good time!
For the ultimate experience, purchase tickets in the "Splatter Zone". Enjoy VIP seating up close and personal to all the zombie fun. "Splatter Zone" audiences will receive a commemorative white t-shirt that can be worn through all the blood shed. Ponchos will be available for purchase for spray protection. However, ponchos will not be allowed in the "Splatter Zone". Please note that ALL audience members should wear casual clothing as splatter can not be contained only to the "Splatter Zone".
You don't need to be an Evil Dead fan to enjoy this show. You don't need to be a horror fan to enjoy this show. You don't need to a musicals fan to enjoy this show. As long as you like to have fun, you will love Evil Dead: The Musical.
Ages: Ages 10+
Length of Show: 120 minutes
You May Also Like: