Rock of Ages at Venetian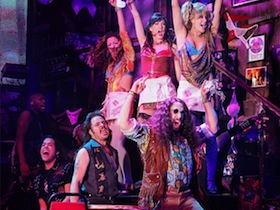 Show Times
| | |
| --- | --- |
| Monday | DARK |
| Tuesday | 8:00pm |
| Wednesday | 8:00pm |
| Thursday | 8:00pm |
| Friday | 8:00pm |
| Saturday | 7:00pm & 10:00pm |
| Sunday | 8:00pm |
Socialize and Share
Resident show, Rock of Ages, is a recent addition to The Venetian family. Before the 2012 film, Rock of Ages was (and still is) a Broadway success. This critically acclaimed rock musical can be seen in New York, London and now, Las Vegas.
Rock of Ages is set in 1987 and revolves around the Sunset Strip music scene in Los Angeles. In the 1980s, Sunset Strip was the birthplace to glam and heavy metal bands like Mötley Crüe, Van Halen, Quiet Riot and Poison. The story follows Drew, a boy from Detroit, and Sherrie, a small-town girl, who both have dreams of making it big and finding love in Los Angeles.
If you are a child of the 80s, you will undoubtedly be familiar with most, if not all the music. This rockin' musical is all about the big hair, big bands and big guitar solos. As if no time has past between now and then, you'll find yourself remembering and mouthing all the lyrics these classics. Enjoy rad tunes like "Cum on Feel the Noize", "The Final Countdown", "Hit Me with Your Best Shot", "Here I Go Again" and more! Between the music, hair and clothing fads, this blast from the past will have you reminiscing about those (and your) crazy 80s.
Due to the adult nature of some numbers, costumes and language, this show may not be appropriate to children under 14 years of age. Should you decide to bring the kids, it will be fun for them to see just how rockin' their parents were when growing up. This could be good and bad. Subject them to your former fashion choices and addictions to hair spray and eyeliner at your own risk.
All children under the age of 14 must be accompanied by an adult. See you on L.A.'s Sunset Strip and prepare to ROCK!
Ages: Children under the age of 14 must be accompanied by an adult
You May Also Like: