Penn and Teller at Rio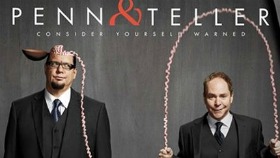 Show Times
| | |
| --- | --- |
| Monday | 9:00pm |
| Tuesday | 9:00pm |
| Wednesday | 9:00pm |
| Thursday | DARK |
| Friday | DARK |
| Saturday | 9:00pm |
| Sunday | 9:00pm |
Socialize and Share
Starring: Penn Jillette and Teller
These two eclectic performers have a long history together having began their careers in the '70s in an act called the "Asparagus Valley Cultural Society." They now are a world-renowned act and a headliner at the Rio All-Suites Hotel & Casino using edgy humor and magic to entertain their audiences. Through the use of gory tricks and pranks, they often relay their views on such topics as politics, conspiracy theories and the paranormal; and their show often involves props such as guns, knives, a fire-eating showgirl and even a duck. After the show, the two often can be found in the lobby signing autographs.
Ages: 5+
Length of Show: 90 minutes
Additional Details: The show will be dark on February 5 - 8 & March 20, 2012.
You May Also Like: