Free Circus Acts at Circus Circus Las Vegas
Be amazed by the talented acrobats and gymnasts that perform every day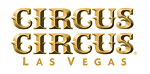 Where:
Circus Circus Casino and Hotel (at Carnival Midway)
2880 Las Vegas Blvd. South
Las Vegas, NV 89109
When:
Sunday - Thursday: 11:30 - 10:30 pm / every hour
Friday: 11:30 am - 11:30 PM / every hour
Saturday: 11:30 am - 12:30 PM / every hour
Times are subject to change.
Cost: FREE!
Socialize and Share:
Page updated: March 6, 2018
Circus Circus Hotel & Casino is home to the world's largest permanent circus. Experience one of the oldest and most loved free shows in Las Vegas. For absolutely no charge, you can see the skill and beauty of world class circus acts perform daily. Be amazed by the talented acts of flying trapeze, aerial silk, roller skating, juggling and more. Of course the clowns are not to be forgotten as it's not a circus without the humor of colorful clowns.
The circus acts perform every hour and each show lasts about 10 minutes. Since this is a popular performance, be sure to arrive with plenty of time to spare in order to ensure yourself a seat. However, if the seating area is no longer available, there is plenty of standing room. Even though this show will entertain all ages, this is a perfect kid-friendly show the children will be sure to love.