Fremont Street Experience - Free Light & Sound Show
Stunning images dance to great music up in the downtown skies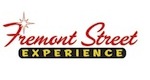 Where:
Downtown Las Vegas (just look up)
Fremont Street at Main Street
Las Vegas, NV 89101
When:
Sunday - Wednesday:
From dusk - midnight, every hour on the hour
Thursday - Saturday:
From dusk - 1 am, every hour on the hour
Cost: FREE!
Socialize and Share:
Page updated: November 24, 2012
When the Las Vegas skies turn to dusk, Fremont Street awakens with exhilarating lights, sounds and music. Now we are not just talking about some pretty twinkling lights. Think bigger. Imagine a dazzling giant light show of art and animations in the sky. Simply stroll down Fremont street and gaze up. A 90 foot high, four block long (that is more than five football fields!) outdoor electronic canopy presents spectacular sight and sound shows.
The show features over 12.5 million LED light modules and a 550,000 watt sound system with an abundance of speakers. This pedestrian promenade was built to attract visitors to the Downtown area of Las Vegas. Suffice it to say they succeeded by leaps and bounds.
Never repeating the same show in one night, the evening has a steady stream of different musical tributes. An example of an evenings playlist may include: Bon Jovi Wanted in Vegas, A Tribute to Queen, The Doors Strange Days, KISS Over Vegas and more. Each show can be up to 15 minutes in length. Surrounded by 11 Hotels/Casinos, you will never be bored during each show. Be sure to check out the Viva Vision Show Schedules to ensure you hear your favorite artists.