Rock n' Roll Memorabilia at Hard Rock Hotel & Casino
See motorcycles, guitars and more from your favorite bands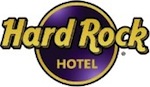 Where:
Hard Rock Hotel & Casino (items are throughout the entire Casino)
4455 Paradise Road
Las Vegas, NV 89109
When:
Daily: 24 hours a day, seven days a week
Cost: FREE!
Socialize and Share:
Page updated: March 5, 2018
Head to Hard Rock Hotel & Casino to view an unbelievably huge collection of rock n' roll memorabilia. Stroll around the Casino and you will find great collectibles from all your favorite rock stars. Take the time to appreciate all the various baubles, trinkets, clothing, instruments and more. They have many displays that will appeal to all music lovers with items ranging from Beatles collectibles to Madonna's underwear, motorcycles from Guns N' Roses' Matt Sorum and Motley Crue's Nikki Sixx, autographed guitars and drum sets from many bands and leather jackets from the Ramones and Aerosmith.
This is a must-see self tour for all music lovers. The collection is truly fascinating. Draw out your inner Rock God or Goddess and visit Hard Rock Hotel & Casino.