Tournament of Kings at Excalibur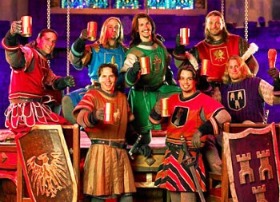 Show Times
| | |
| --- | --- |
| Monday | 6:00pm |
| Tuesday | DARK |
| Wednesday | 6:00pm |
| Thursday | 6:00pm, 8:30pm |
| Friday | 6:00pm, 8:30pm |
| Saturday | 6:00pm, 8:30pm |
| Sunday | 6:00pm, 8:30pm |
Socialize and Share
Spectators are treated to a feast fit for a king while being entertained with performances from "medieval" royalty. Audience seating is broken down into countries so that each section can cheer for its respective king (though one section is dedicated to the Dark Knight). After all royalty is introduced, they sit at The Round Table to feast with King Arthur. When the meal concludes, the arena erupts into a frenzy when the jousting, sword fights, horse race and gladiator-style battles begin. The visual spectacle is extravagant as well with the horses and performers bedecked in full, royal regalia created by Michael Fresney, the designer behind the costumes for the television production "Napoleon and Josephine."
Ages: All ages welcome
Length of Show: 75 minutes
Additional Details: Dinner-less Admission is available and can be purchased at the Excalibur Box Office only.
You May Also Like: