Legends in Concert at Flamingo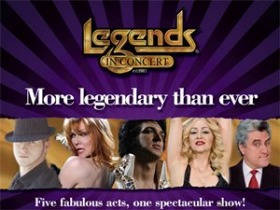 Socialize and Share
Into their 35th season, Legends in Concert is one of the most popular and long-running shows in Las Vegas. This tribute show brings favorite performers together on one stage. Even though this production been running for many years, they always keep it fresh by changing tribute artists several times a year. As a current show sample, they are paying tribute to four musical icons, past and present. This go around they are honoring royalty. Performer Cynthia Minx will be paying "Respect" to the Queen of Soul, Aretha Franklin. After a five year hiatus, tribute artist Matt Lewis will return to the stage as the King of Rock and Roll, Elvis Presley. Introducing a 16-year old newcomer, Nathaniel Cullors brings the music of the young King of Pop, Michael Jackson and the Jackson Five to life. Entertainer Andy K, brings us back to the 80's with a tribute catalogue of Sting & The Police. This show is ideal for all ages from the grandparents to the five-year old kids. Legends will have everyone up off their feet and dancing up a storm. Be sure to check the performer schedule, as the lineup changes often.
Ages: All ages welcome
Length of Show: 80 minutes
Additional Details: Legends in Concert share a theatre with Donny & Marie. As a result, each show has alternating schedules. Legends in Concert show times can be 4:00pm, 7:30pm, or 9:30pm on any day. Please check the ticket sales calendar for exact show times.
You May Also Like: