Blue Man Group at Luxor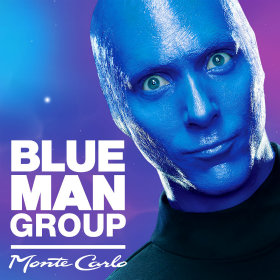 Show Times
| | |
| --- | --- |
| Monday | 7:00pm |
| Tuesday | 7:00pm |
| Wednesday | 7:00pm, 10:00pm |
| Thursday | 7:00pm, 10:00pm |
| Friday | 7:00pm, 10:00pm |
| Saturday | 7:00pm, 10:00pm |
| Sunday | 7:00pm |
Socialize and Share
The Blue Man Group is about to have a new home and a fresh updated show. In 2015 Luxor Las Vegas Resort and Casino proudly welcomes Blue Man Group as their newest resident show. Tickets are on sale now for shows starting November 18.
This wild high-energy show will rock your senses. Unlike any show on the Strip, this productions combines music, humor, technology, color and hilarious, yet silent blue men. A sensational world-wide hit, Blue Man Group easily translates with all nationalities, languages and ages. The clever Blue Men engage audiences with creativity through drums, wind instruments, body language, paint, paper, lights, sights and sounds. The energy is contagious and draws in even the toughest of critics. Resisting the the theater-wide excitement is futile. Moving to the beat is inevitable.
Be sure to check out Blue Man Group at their new home in Luxor for some family fun and a rockin' good time.
Ages: 3+
You May Also Like: