Fountains of Bellagio at Bellagio Hotel & Casino
A spectacular fountain show not to be missed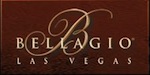 Where:
Bellagio Hotel and Casino (outside on Las Vegas Blvd.)
3600 S. Las Vegas Blvd.
Las Vegas, NV 89109
When:
Monday - Friday:
3 pm - 7 pm every ½ hour
7 pm - 12 am every 15 minutes
Saturday, Sunday* and Holidays:
12 pm - 7 pm every ½ hour
7 pm - 12 am every 15 minutes
*Sunday hours during Jasmine Fountains Brunch: 11 am - 2:30 pm every 15 minutes
Shows are subject to cancellation due to high winds.
Cost: FREE!
Socialize and Share:
Page updated: October 18, 2012
A spectacular outdoor show created from water fountains, lights, sound and music. A quarter mile long man-made lake stretches between the Bellagio Hotel & Casino and the Strip and contains 1200 nozzles and 4500 lights. Every day and night spectators line the sidewalks to "ooh" and "ahh" at the fountains shooting water up to 240 feet into the air. The waters dance in time to music that fills the air. Depending on the music selection, the show can vary in time from 2 to 10 minutes.
The music selection is always being rotated so you can never be sure what the musical accompaniment will be. Amazingly, each song has its own choreography of intricate water dances. The impressive music list includes artists like Frank Sinatra, Elton John, Celine Dion, Whitney Houston and Elvis Presley along with famous composers Marvin Hamlisch and Henry Mancini, just to name a few. During the Winter you can always count on hearing your favorite holiday hits.
It may seem like a big problem to use so much water for hundreds of fountains in the middle of the desert. The water for the lake and fountains actually comes from a well that previously existed on Bellagio's property. The well was originally drilled for a golf course that was part for the old Dunes resort. In fact, the fountains use less water than was used for the golf course landscaping.
This is probably the most popular free attraction in Las Vegas. It is a must see on your trip to Las Vegas.
See the list of music used for the fountain shows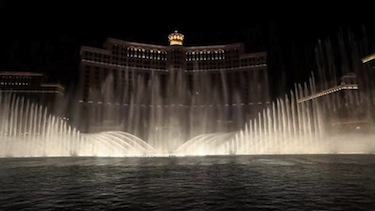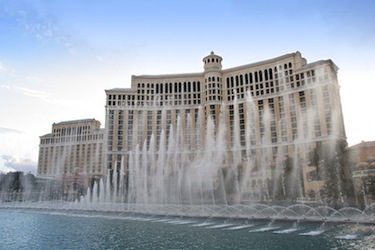 Fountains of Bellagio Music List
Broadway & Film Musicals and Operas
Title: Ecstasy of Gold
Composer: Ennio Morricone | Work: The Good, The Bad, and the Ugly Movie Soundtrack
Year: 1966 | Length: 3.22
Title: Hey, Big Spender
Artist: Gwen Verdon & Original Broadway Cast
Composer: Cy Coleman | Work: Sweet Charity Broadway Musical
Year: 1966 | Length 3:35
Title: Luck Be A Lady
Artist: Frank Sinatra
Composer: Frank Losser | Work: Guys & Dolls Broadway Musical
Year: 1955 | Length 5:14
Title: My Heart Will Go On
Artist: Celine Dion
Composer: James Horner | Lyrics by Will Jennings
Work: Let's Talk About Love & Titanic Movie Soundtrack
Year: 1997 | Length 5:08
Title: One, Singular Sensation
Artist: Original Broadway Cast
Composer: Marvin Hamlisch | Work: A Chorus Line Broadway Musical
Year: 1975 | Length 4:43
Title: Overture/And All That Jazz
Artist: Catherine Zeta-Jones
Composer: Fred Ebb & John Kander | Work: Chicago Movie Soundtrack
Year: 2002 | Length : 4:37
Title: Pink Panther
Artist: Henry Mancini
Composer: Henry Mancini | Work: The Pink Panther Movie Soundtrack
Year: 1964 | Length 2:39
Title: Rondine al Nido
Artist: Luciano Pavarotti
Composer: Vicenzo de Crescenzo | Work: La Rondine Opera
Year: 1990 | Length 3:23
Title: Singin' in the Rain
Artist: Gene Kelly
Composer: Alex North | Work: Singin' in the Rain Movie Musical
Year: 1952 | Length 3:32
Title: Viva Las Vegas
Artist: Elvis Presley
Composer: George E. Stoll | Work: Viva Las Vegas Movie Soundtrack
Year: 1963 | Length: 2.25
Christmas Carols
Title: Carol of the Bells
Artist: Los Angeles Master Chorale
Composer: M. Leontovich | Work: Christmas Carol
Year: 1996 | Length 1:29
Title: Hallelujah Chorus
Artist: Mormon Tabernacle Choir
Composer: Handel | Work: The Messiah
Year: 1992 | Length 3:53
Title: It's Beginning to Look a Lot Like Christmas
Artist: Johnny Mathis
Composer: Meredith Wilson | Work: Christmas Carol
Year: 1997 | Length 2:18
Title: O Holy Night
Artist: Placido Domingo
Composer: Placide Clappeau | Work: Christmas Carol
Year: 1984 | Length 3:57
Title: Santa Baby
Artist: Madonna
Composer: J. Javita & P. Springer | Work: Christmas Carol
Year: 1987 | Length 3:57
Title: Sleigh Ride
Artist: Johnny Mathis
Composer: Leroy Anderson | Work: Christmas Carol
Year: 1997 | Length 2:57
Title: The Most Wonderful Time of the Year
Artist: Johnny Mathis
Composer: Eddie Pola & George Wyle | Work: Christmas Carol
Year: 1997 | Length 2:45
Title: We Need a Little Christmas
Artist: Johnny Mathis
Composer: Jerry Herman | Work: Mame, Broadway Musical
Year: 1997 | Length 1:54
American Patriotic
Title: God Bless The USA
Artist: Lee Greenwood
Composer: Lee Greenwood | Work: American Patriot
Year: 1992 | Length 3:57
Title: Star Spangled Banner
Artist: Whitney Houston
Composer: Francis Scott Key | Work: CD Single
Year: 2001 | Length 5:08
Artist Singles
Title: Con Te Partiro (Time to Say Goodbye)
Artist: Andrea Bocelli & Sarah Brightman
Composer: F.Sartori, L.Quarantotto | Work: Pop Song
Year: 1996 | Length 4:04
Title: Fly Me To The Moon
Artist: Frank Sinatra with Count Basie
Composer is Bart Howard | Work: The Very Best of Frank Sinatra
Year: 1957 | Length: 2:28
Title: This Kiss
Artist: Faith Hill
Composer: Beth Nielsen Chapman, Annie Roboff and Robin Lerner
Work: Faith
Year: 1998 | Length: 3:00
Title: Your Song
Artist: Elton John
Lyrics: Bernie Taupin | Work: Elton John
Year: 1970 | Length 4:10
Orchestra
Title: Gayaneh - Suite: Dawn, Ayeshe's Dance
Artist: London Symphony Orchestra
Composer: Aram Ll'yich Khachaturian | Work: Spartacus
Year: 1942 | Length: 4:12
Title: Hoe-Down
Artist: London Symphony Orchestra
Composer: Aaron Copland | Work: Rodeo
Year: 1988 | Length 3:30
Title: Rhapsody on a Theme of Paganini
Artist: Mikhail Rudy
Composer: Sergei Rachmaninov | Work: Theme of Paganini
Year: 1992 | Length: 2.55
Title: Simple Gifts
Artist: London Symphony Orchestra
Composer: Aaron Copland | Work: Appalachian Spring
Year: 1988 | Length 3:12
Title: Winter Games
Artist: David Foster
Composer: David Foster | Work: Composed for Winter Olympics
Year: 1987 | Length 3:00