The Rat Pack Is Back at Rio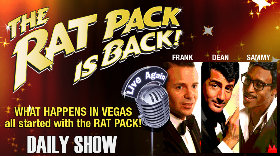 Show Times
| | |
| --- | --- |
| Monday | 7:00pm |
| Tuesday | 7:00pm |
| Wednesday | 7:00pm |
| Thursday | 7:00pm |
| Friday | 7:00pm |
| Saturday | 7:00pm |
| Sunday | 7:00pm |
Socialize and Share
Back in the 60's, The Rat Pack was always mentioned in the same sentence with Las Vegas. Actress Lauren Bacall, was rumored to have said the group looked like "g-damn rat pack", and the nickname stuck. The Rat Pack were Frank Sinatra, Dean Martin, Sammy Davis Jr. and Joey Bishop. These cool cats performed their always sold out shows in the Copa Room at the famous Sands Hotel & Casino.
In 2012, now in the Crown Theater at Rio, the talented group of The Rat Pack Is Back has resurrected the once famous show. Although the original pack has long passed and The Sands is no longer standing, The Rat Pack Is Back does an amazing recreation of The Rat Pack era. The show is full of singing, dancing, drinking and mischievous remarks that you would expect from this tribute. Audiences are brought back to another time with musical numbers "Luck Be A Lady", "That Old Black Magic", and "Lady Is A Tramp." Fantastic vintage video segments assist with the time warp.
If you have ever wondered what classic Las Vegas was like back in the 1960's, The Rat Pack Is Back will actually make you think you are living in that era. This is a must-see show for any Sinatra, Martin and Davis Jr. fans or just want to remember the good ol' days.
Ages: All ages
You May Also Like: