Divas Las Vegas at The LINQ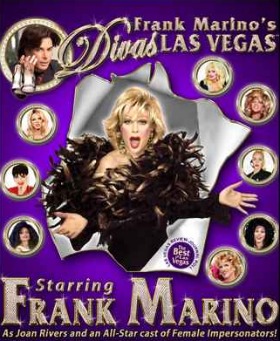 Show Times
| | |
| --- | --- |
| Monday | 10:00pm |
| Tuesday | 10:00pm |
| Wednesday | 10:00pm |
| Thursday | 10:00pm |
| Friday | DARK |
| Saturday | 10:00pm |
| Sunday | 10:00pm |
Socialize and Share
Starring: Frank Marino
This glamorous and high-energy shows brings favorite female celebrities to life. The female impersonators are remarkable with their spot-on performances. In fact, it is easy to forget that Britney Spears, Cher, Diana Ross, Madonna and Lady Gaga are not actually on stage in person. Just when you think it's impossible to top dazzling costumes, big hair, fabulous make-up and popular hits, they throw in six ultra-sexy male dancers to awe you.
When Frank Marino, the creator of Divas, isn't emceeing the show, he transforms into funny lady Joan Rivers, with his impeccable impression. Mr. Marino is no stranger to Las Vegas as he starred in La Cage at Riviera for an astonishing 20 years.
This is the perfect show to see all your cherished superstars together in one epic production. You won't regret seeing this crowd-pleasing tour de force.
Ages: 17+
Length of Show: 75 minutes
You May Also Like: